The Great Big Demon Hunting Agency by Peter Oxley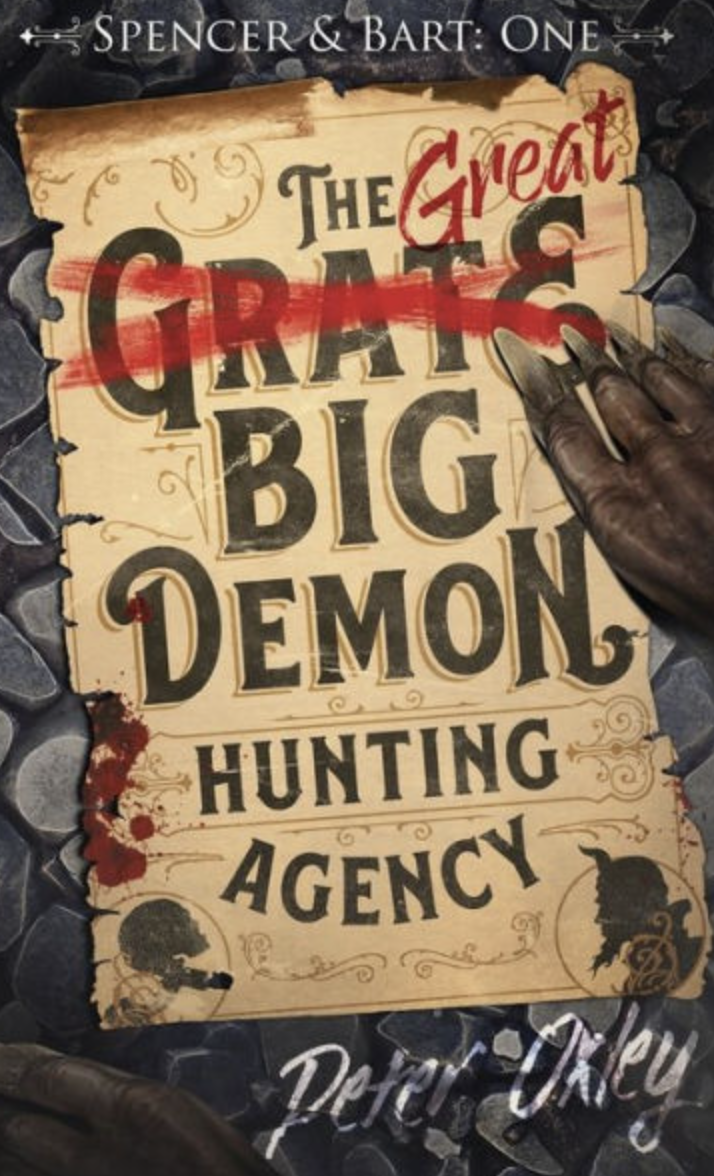 TLDR:
My Rating: ★★★☆☆
Genre: Fantasy, Historical Fiction
Target Age: Adult
Goodreads
StoryGraph
Please note that I received an advance reader copy of this book.
---
Book Blurb
London, 1868. The streets are haunted by thieves, murderers… and demons from beyond the Aether.

Spencer and Bart are the city's most incompetent crooks, and they are in deep trouble. Hunted by both police and their fellow criminals, they are forced to consider the unthinkable —going straight.

Forming The Great Big Demon Hunting Agency, they thought their troubles were behind them, but they soon find themselves caught up in a web far more dangerous than they could ever imagine, pitched against demons, criminals and evil magicians.

Why are there so many demons roaming the London streets, and can Spencer and Bart stop them before it's too late?

Who are the mysterious Tappers, and what are they doing with the women they abduct from the streets?

Can Spencer and Bart change the habits of a lifetime and not only stay on the right side of the law, but also save the day?
---
Review
This review is long overdue. As mentioned in my previous post, I encountered a big reading slump so I fell behind in some of the ARCs I received.
Feeling sort of down, I wanted to read something a bit lighter. Remembering this book, I quickly pulled out my kindle and began to read it.
This book is targeted at adults, but I think it's safe for older teens (YA/new-adult) range to read with no issues. There are a few gory scenes and some explicit language but nothing too major. If it weren't for those moments, I would even bet this could do very well in middle grade.
The setting is interesting. From what I gathered, the setting is actually from another series. In this world, demons have appeared. There was a war but, after some time, humans and demons coexist. Tensions are high as it is clear that humans still distrust demons and vice versa. The story mentions this conflict but it never becomes the center focus, so as a new reader you are never left feeling confused.
The characters fall a bit flat. Bart, Spencer, Tessie are the ones you get to follow the most. Spencer and Tessie, in particular, have the most point of view chapters but still do not flesh them out. Spencer is the typical smaller but cunning type of guy (something commented on by other characters more than once), Bart is the muscle, and Tessie is the rich girl that wants to live her life.
I prefer reading character-driven books and, because the characters weren't very noteworthy, I lost interest at times. All the other characters were even more one-dimensional. Bart and Spencer are crooks turning a new leaf, but the antagonists of the story are cartoonishly evil.
*SPOILER* There was a moment where we switch to Bart's POV and it mentioned how Tessie reminded him of his mother. I wish it had more moments like that since it explained to me his sudden infatuation with Tessie that I found annoying at first but understood once reading that.  
The best way I can describe this book is an episode of a TV show. Imagine one of the more comedic episodes of Supernatural (I'm specifically thinking of the TV episode) but set in London.
Hell, in my head, I pictured Bart and Spencer as the home invaders from the Home Alone movie. Their descriptions don't match, but their banter/relationship reminded me of them.
---
Final Thoughts
The Great Big Demon Hunting Agency is a quick read. At this time, I really wanted to read something that was quick and easy. While I never found myself interested in any of the characters, I was intrigued enough by the plot to keep reading because I wanted to see how it all came together at the end.
Do I recommend this book? If you're into a more plot-driven book that you can finish in a setting with a sprinkle of slapstick comedy, then you will probably enjoy this.